HX – HEAT EXCHANGER ULTRASONIC CLEANER
THE POWER OF CLEANING BY ULTRASOUNDS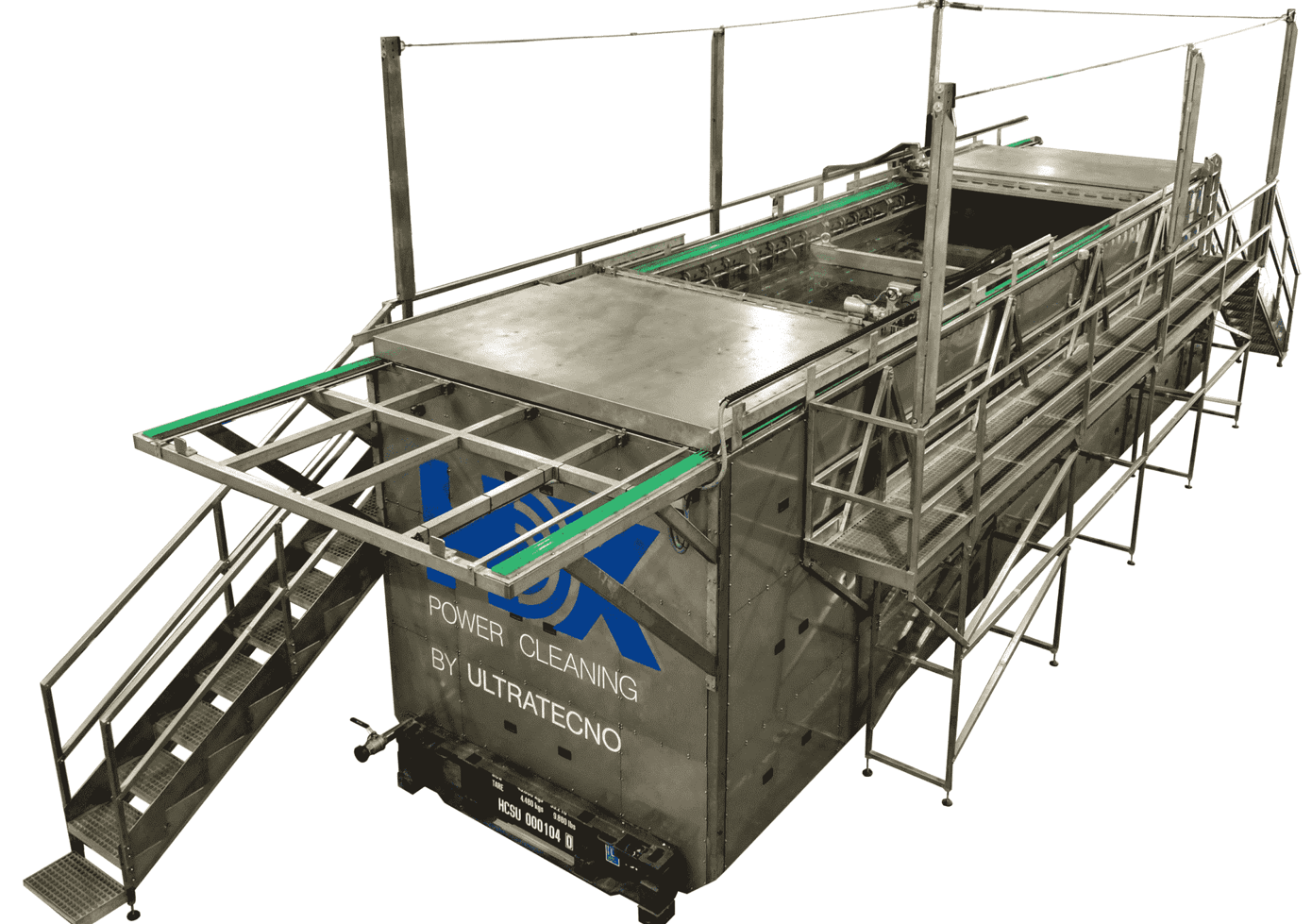 WE ARE A SPECIALIZED BRAND IN SELLING ULTRASONIC EQUIPMENT FOR CLEANING HEAT EXCHANGERS
HX Power Cleaning brand is specialized in selling ultrasonic cleaning heat exchanger machinery. HX Power Cleaning is supported by company Ultratecno, specialists in ultrasonic cleaning machinery for many types of applications with more than 50 years' experience operating in the ultrasound world market.
Ultratecno company is well known for being leader in manufacturing large ultrasonic cleaning tanks using a 28kHz frequency for difficult applications such as shell and tube heat exchanger maintenance in petrochemical, oil and gas industry.
The leaders in high-quality ultrasonic cleaning machines for heat exchangers for industrial cleaning services. HX currently distributes heat exchanger cleaner in Europe, Asia, Africa, America, and Oceania.
Make high-pressure water jetting method a thing of the past!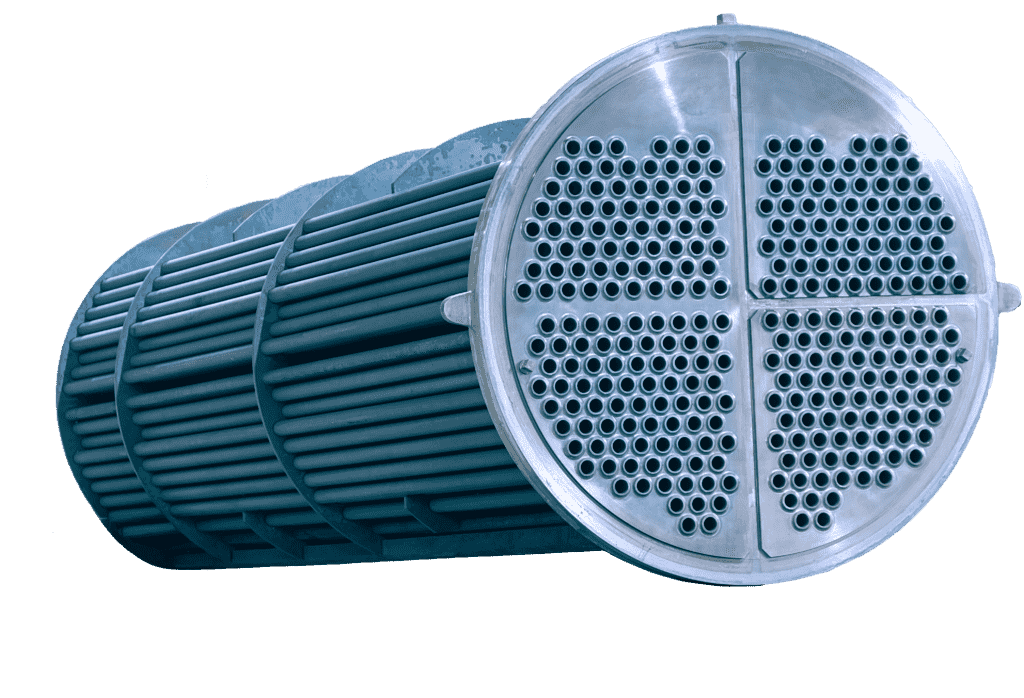 WHY CLEAN HEAT EXCHANGER WITH ULTRASOUND TECHNOLOGY?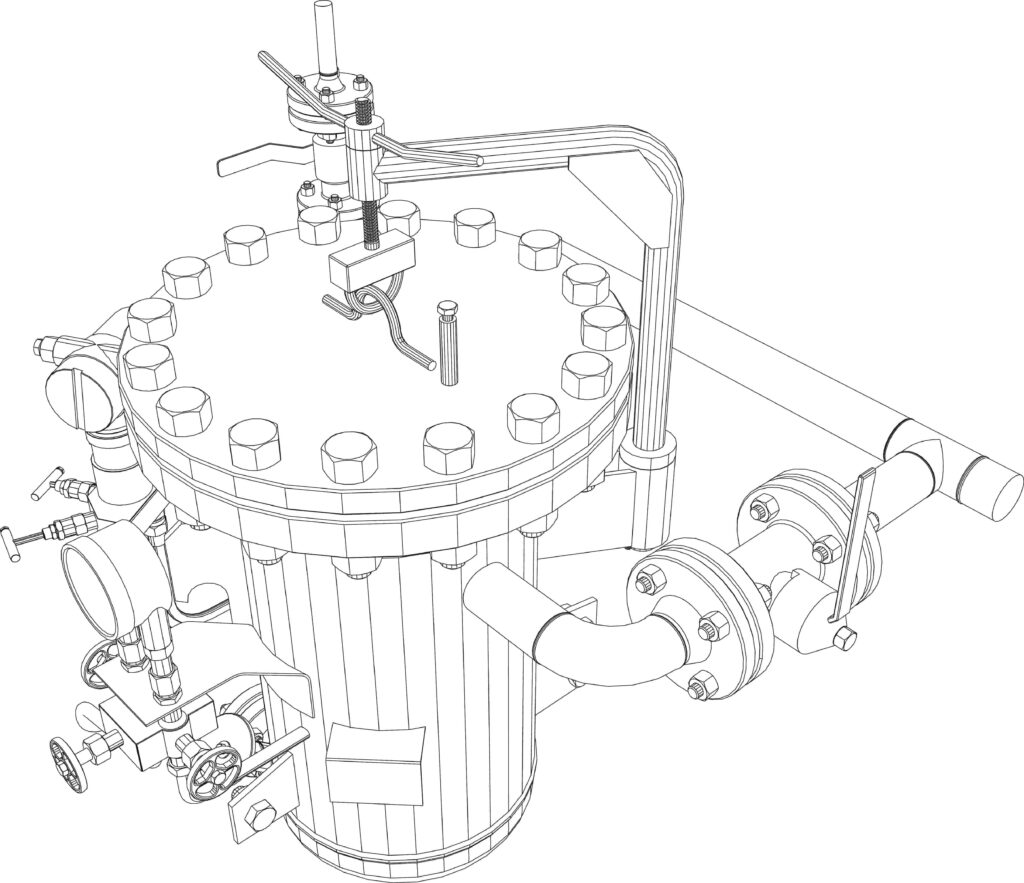 Ultrasonic cleaning of heat exchangers and other components of heavy industrial require the use of  best ultrasound technology.
You can find a wide range of methods and technologies and cleaning processes but none more efficient than our 28kHz frequency technology.
Your dirty pieces will be submerged in a large stainless steel water tank with a percentage of special detergent. In the tank, our transducers placed on walls will produce sound waves creating bobbles –  cavitation process.
After this,  dirt from you piece will begin to come loose obtaining a perfect cleaning result at the end of the process. It is necessary to rinse heat exchanger, in order to eliminate  dirt from the extraction process.
If you need to clean a plate heat exchanger, HX is your solution for petrochemical industry.
CERTIFICATE OF QUALITY
ISO 9001 AUDITED ANNUALLY BY BUREAU VERITAS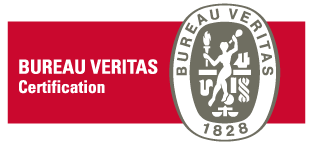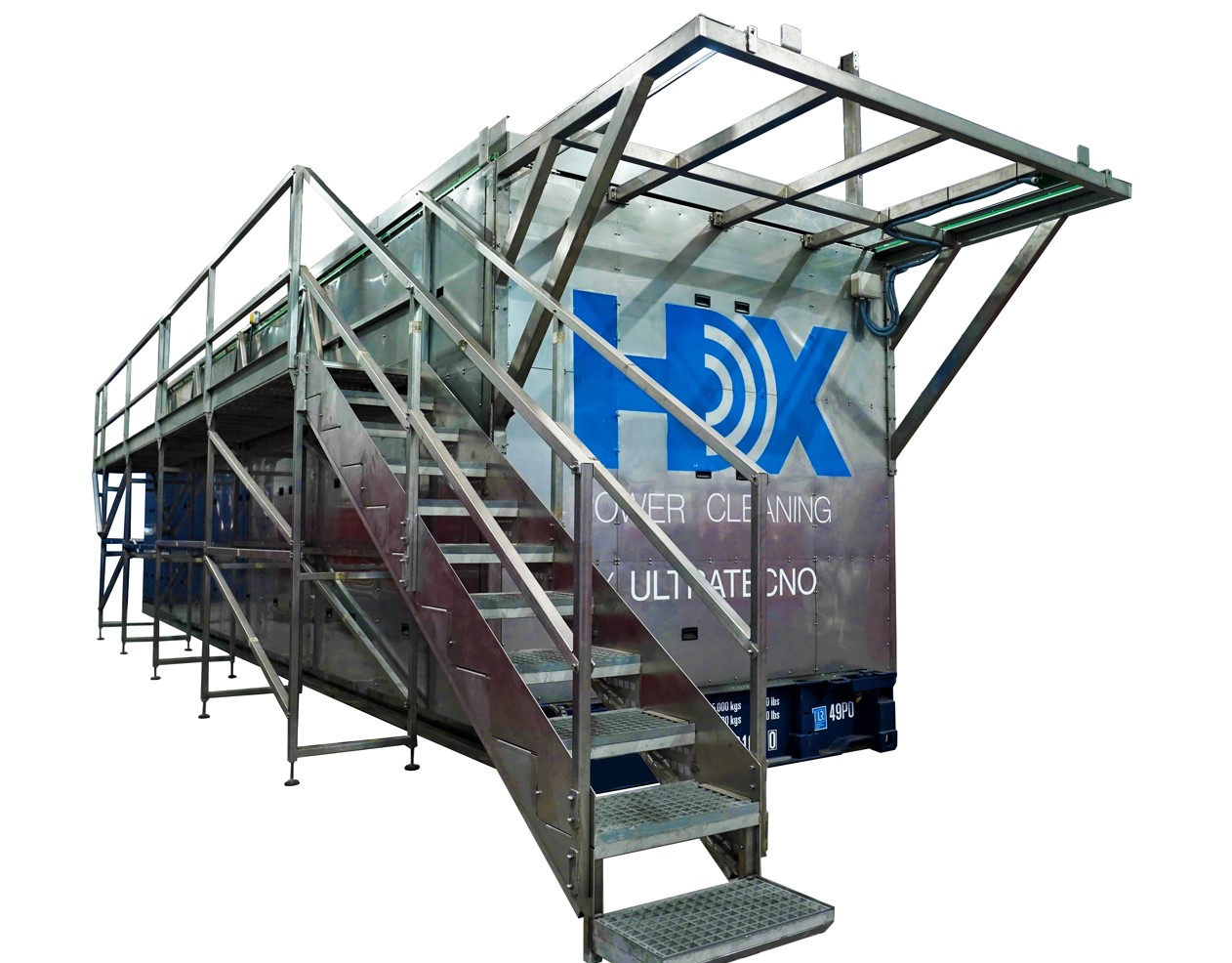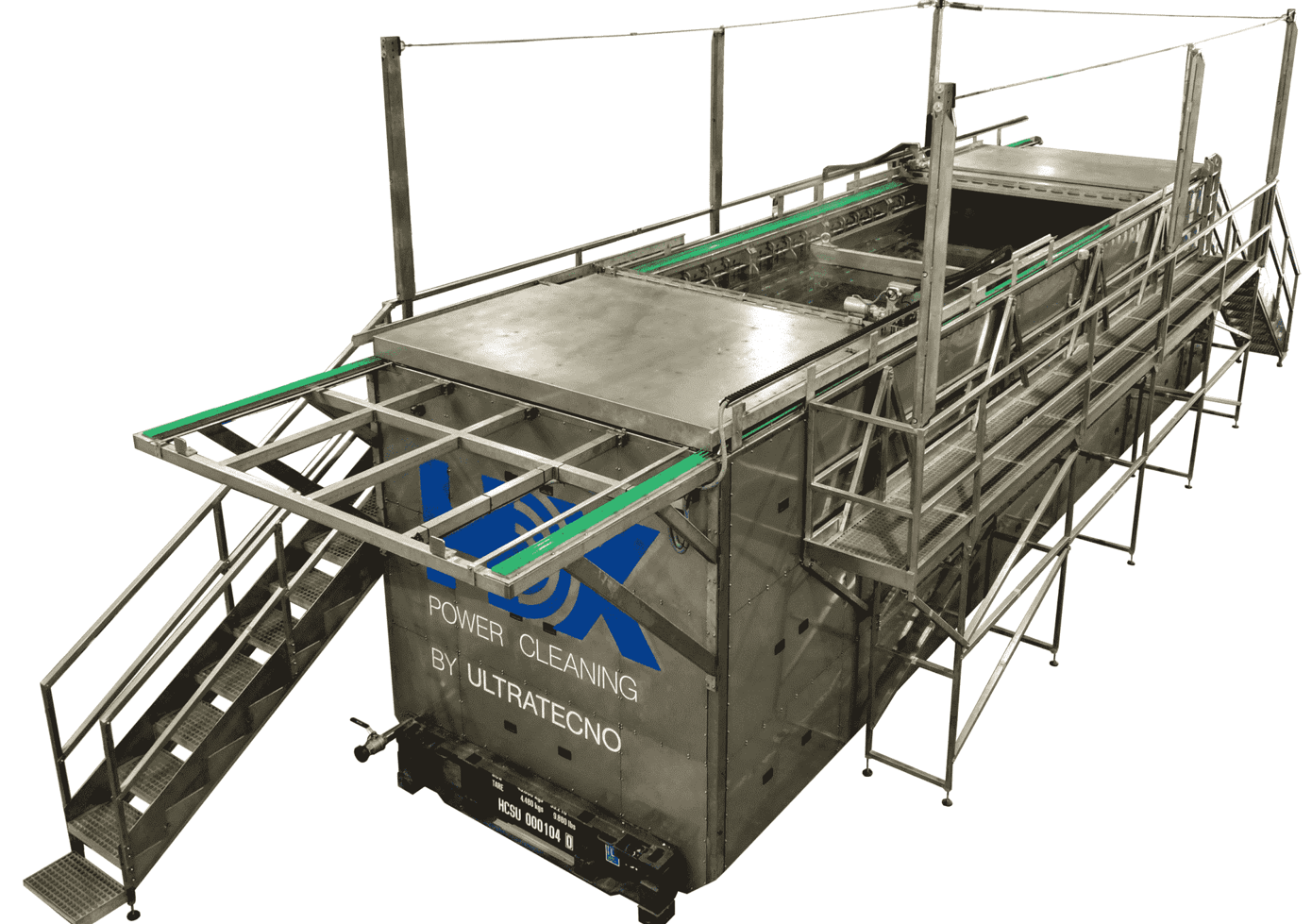 BEST PERFORMANCE ON THE MARKET
Ultrasonic Cleaning with

powerful blasting effect from outside and inside parts

provides excellent results, removing all dirt and returning part to

bare metal

and

removing calcium carbonate deposits

Increases heat exchanger's flow volume and heat transfer rate. Heat exchangers and parts are returned to service at

95% of original design performance.

Ultras

onic

stainless steel

tanks

perfor

m

twice as fast as hydro-blasting

Ensures perfect performance

of

heat transfer

Results only depend on machine, not operator

Ultrasound does not affect material and prevents damage caused by water pressure.

It is possible to clean different

spare parts

simultaneously
HUGE COST SAVINGS
Huge Labour Cost Savings

as hydroblasting (high-demanding manpower) is reduced by 75% (only for rinsing)

Chemicals Savings as

bath can be reused

with up to 80 heat exchangers

cleaned

per bath preparation (with as many as 3 consecutive turnarounds with controlled climate storage up to 5 years). Achieving massive savings in

Oil

and

Gas

Industry.

Higher cleaning performance results in extended run time and

double periods between turnarounds

Overall cleaning associated

costs are reduced by 50%

when compared to traditional hydroblasting

Reduce use of water and tempe

rature control of

hot water

Less contamination in the cleaning area
SAFETY
Hydro-blasting work is reduced by over 75% and only required for rinsing purposes,

reducing associated risk

Reduces operators´

exposure to

water treatment chemicals

being an

a

non toxic

method.

No

transportation risks for

large parts.
SUSTAINABILITY
66% Water consumption savings

in comparison with hydroblasting (100.000 litres per unit)

66% reduced waste-water generation

as baths are reused multiple times

10-15% reduced energy consumption & greenhouse gas emission

Increases

recycling of old parts

and reducing disposal cost
REQUIRE ANY FURTHER
INFORMATION CONCERNING
YOUR PROJECT?
FILL OUT THE FORM AND WE
WILL ASSESS YOUR REQUIREMENTS.